The Official Coinye Site
aka The (most) Official Coinye Site out there!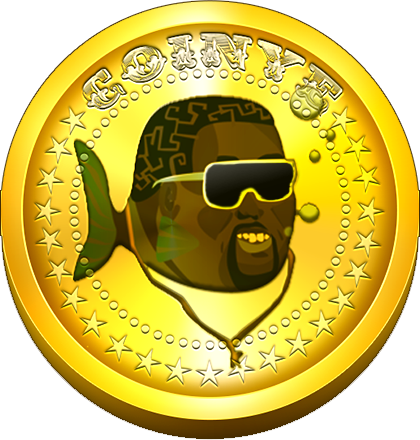 The Crypto that didn't even die
Warning:
This site is about the original cryptocurrency
Coinye
, that has had its own blockchain and network since 2014. A
new token got called (?) "Coinye"
, and links to this website. Although it's completely in the spirit of Coinye that these things can happen now, and there's little anybody can do about it; the least we
can
do is point this out.
Don't be scammed!
Technical Details

Algorithm:
Scrypt
Block time:
± 90 Seconds
Max Coins:
133,333,333,333
Difficulty re-target Time:
12 hours (every 480 blocks)
Every 100k blocks, the payout halves
This but nerdier
Wallets
Although you should know better than to download dubious software from dubious sites, here are the download links to the wallets. This software is released under some vague go fuck yourself public license. Best of luck.
The all-in-one installer, read more about it here
The Old And Original One
Compiled from source on Ubuntu 14 32bit. May not work on more recent versions of Linux.
Compiled from source on Ubuntu 14 32bit. May not work on more recent versions of Linux.

Other linux versions:

Support for more linux versions is being improved. There's builds, install notes, scripts, everything your nerdy little linux heart may desire for these Distro's:
Hey, if you have a Mac... that's okay! Really!!
Download or view the source code on GitHub
Mining Pools
Ohhhh yes! There's a brand new (2021-02) mining pool!!! Check it out:
Hell yes! Get mining you fishdicks!
Faucets
Only one faucet still operational... The never-dying GayFishBot:

Tweet your receive address and @gayFishBot, and the GayFishBot will pick up your tweet and reward it with an amount of Coinye (somewhere between 10 and 140 Coinye) and usually an insult or two.
Nodes
Sometimes when you're unhappy and lonely, and your wallet won't synchronize, know that you're not alone in BrokeBack Ocean. Add these nodes to your config file, to make your wallet connect to active nodes, and make it synchronize again.
The Coinye wallet is based on (an old version of) the LiteCoin wallet. Unfortunately you can't add nodes in the debug-window (yet), but you can add them to your coinyecoin.conf file. On restart the client will try and connect to all nodes specify and ask them for more nodes, so one working node should be enough to get you started. (See these instructions for more info.)
Nodes
These nodes are updated every hour.